Deck Cleaning
When you have NorthEast PowerWashing clean your deck you will be pleasantly surprised at the results. We have the expertise to clean any decking surface including but not limited to #2 Pine, Trex, Azac, Mahogany, and other exotic woods.


Before & after cleaning. (prior to staining & protecting)
Deck Staining & Restoration
Before anyone does anything with wood, they should know the type of wood they are dealing with. The different characteristics, properties and personalities of the wood or substrate.  When you are properly educated you can choose the proper coating that meets the characteristics of the wood to achieve your desired results.
Anyone can go to a local box store and be sold on the best junk they have to offer and slap it on any surface. That is easy.  Here at Northeast Power Washing we first will see what your desired results are and come up with a coating that we would recommend and the proper maintenance plan.  With wood, any coating will fail prematurely with out proper maintenance.
Recent Deck Cleaning & Restoration Before & Afters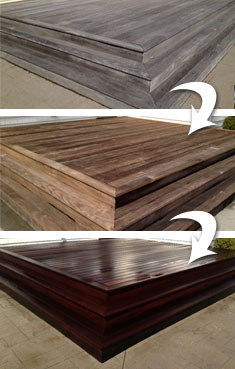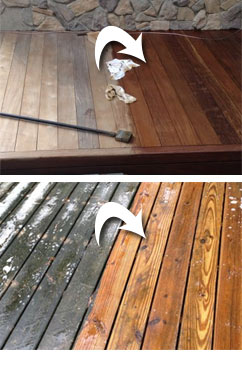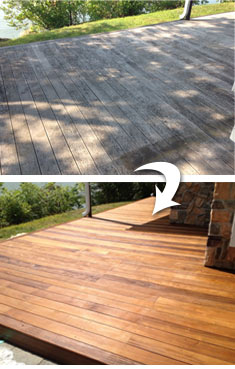 Our Wood Cleaning & Restoration Services Include (but are not limited to)
Fence cleaning and oiling
Log home restoration
Stripping
Paint prep
Deck restoration
Our Most Commonly Treated Deck Types
#2 Pressure Treated Pine
pressure treated wood is the most common type of decking and We are willing to work around your needs to preforming just a night light cleaning of the surface to a more in-depth cleaning in preparation of a stain.
Composite Decking, Trex, Azac
We solutions that are safe for all composite type decking so that you can be assured that no harm will be done to look or the integrity of the decking material
Cedar, Mahogany & Exotic woods
When cleaning decking made from exotic woods great care must be used in the solution and the amount of pressure used in the cleaning process to ensure that the wood is treated properly and that no damage is done do to excessive pressure

Here at NorthEast PowerWashing we exclusively use Timber OX Green wood stains in all of our exterior wood restoration services because we feel that it is superior to all other wood stains on the market.
After attending one of the national Power Washers of North America's convention we met John Nearon, vice president of Timer OX Green (a division of Exterior Wood Restoration). John and his company exclusively deal with wood restoration and noticed a need in the industry for a better and more durable exterior wood stain. They found that current wood stains did not hold up to the harsh affects of the elements like the sun, growth of algae and mold, and foot traffic as well as they would like. so they sought out to develop their own and as a result we have Timber Ox Green. A wood stain developed by contractors for contractors.
Timber Ox® Green stains use nano particle technology, triple polymer resins, and iron oxide pigments to protect wood surfaces against UV light and damage from the outdoor elements.
Timber Ox® Green stain lasts longer than other products because it is stronger than conventional wood treatments. With a formula that contains high solids, and more wood protecting compounds, Timber Ox® Green stain does not build up and peel off or wash away. Timber Ox® Green bonds deep inside at the cellular level to deliver long lasting protection.
Timber Ox® Green stains utilize Triple Polymer Protection which is composed of polyester, polyurethane and acrylic resins. Each resin plays an important part in the overall protection of the wood. They are derived from agriculturally renewable resources. Almost all other products contain only one polymer resin.