Make Your Home Look New Again With NorthEast Power Washing
Pressure washing is one of the most affordable ways to increase a home's value while at the same time, restoring and extending its life by removing harmful dust, dirt, mold and mildew. With Connecticut weather, exterior surfaces are always exposed to harmful elements-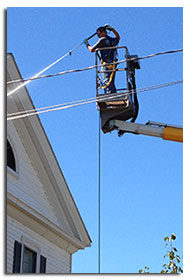 both natural and man-made. Ultraviolet light rays, wind, rain and dirt physically attack surfaces causing them to oxidize, degrade, discolor or chalk over a period of time. Mold, mildew, insects, spiders, birds and tree sap can add to these effects.
All take their toll on your home over time. If not removed periodically they can destroy the beauty and reduce the value of your property dramatically. To maintain the appearance and value of your home, periodically cleaning of the exterior surfaces is highly recommended.
Utilizing our "Soft Wash" cleaning methods, combined with the highest quality cleaning solutions, we are able to provide the highest level of cleanliness without the risk of damage from high pressure washing.
What is Soft Washing?
Soft Washing is the use of Specialized Equipment and Uniquely Formulated Cleaning Solutions that have been developed to protect against damage caused by high-pressure machines and unskilled operators.
One of the main considerations with house washing vinyl siding is pressure. Damage commonly comes as a result of someone holding the tip of the pressure washer too close to the house and blowing holes in the siding or leaving marks on the vinyl. The use of low-grade cleaners compounds the situation where the only way they can get the walls clean is to hold the tip too close, with too much pressure and, again, damage is the inevitable result.
Gutter Brightening
Zebra stripes are those dark vertical stripes that appear on aluminum rain gutters. They are caused by an electrostatic charge that develops in the gutters. Naturally, pollution and dirt build up on the top lip of the gutter. When moisture combines with these pollutants it streams down the face of the gutter. Future precipitation will continuously follow the same path, resulting in alternating light and dark stripes. Over time zebra stripes get darker and darker.
Pressure washing cannot remove these unsightly stains. Zebra striping can only be removed by applying cleaners to the exterior of the gutter. With the use of soft bristle brushes, our specifically designed gutter solution, and a long extension pole we can remove those ugly black vertical streak from your getters.
Wax Application
We also have available a polymer based wax that can be applied following our cleaning rinse. This is another process and is not just something that is added into our house wash mix. This can bring life back to dull vinyl and add a protective barrier to the siding. This application leaves behind a microscopic film of conditioning polymer that protects the surface. It repels atmospheric fall out and dirt. It also retards the growth of mold and mildew, increasing the time between cleanings and saving you money in the long run.
Selling Your Home?

You wouldn't sell your car without washing it would you? Then why not wash your home? A well kept home with clean siding, roof, sidewalks and deck says a lot to a potential buyer about how well the home was cared for and maintained. NorthEast PowerWashing works with a lot of realtors and their clients to help them in the selling process and achieving the maximum value for their property. Don't lose a sale because of a bad First Impression!
Things to list that we clean
Gazebos
Blue stone
Vinyl
Stucco/dryvit
Aluminum
Painted surfaces
Paint preparation
Pool decks
Stripping
we do not do windows!